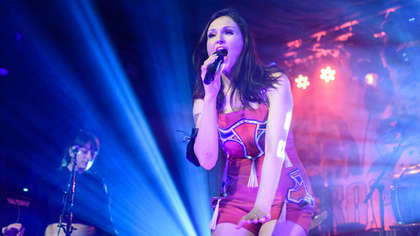 Singer Sophie Ellis-Bextor has spoken out about being raped by a 29-year-old guitarist when she was 17.
The teenage Ellis-Bextor lost her virginity in the assault after going back to the musician's flat.
The Murder on the Dancefloor singer makes the claim in a new biography titled Spinning Plates, which will be released on October 7th, and has said that she wants her voice to be heard 25 years on from the attack.
The singer met her attacker (whom she calls "Jim" in the book) at a gig and got talking about their shared interest in history. Ellis-Bextor accompanied the musician back to his flat under the pretext of being shown some books he had in his possession. When she arrived at his flat Ellis-Bextor discovered the older man's true intentions.
"Jim and I started kissing and before I knew it we were on his bed and he took off my knickers," Ellis-Bextor writes in her book. "I heard myself saying 'No' and 'I don't want to', but it didn't make any difference. He didn't listen to me and he had sex with me and I felt so ashamed. It was how I lost my virginity and I felt stupid. I remember staring at Jim's bookcases and thinking: I just have to let this happen now."
In the book, Ellis-Bextor writes about how attitudes towards consent at the time made her believe she wouldn't have a case against the guitarist as she hadn't been "pinned down or shouted at."
"My experience was not violent," she writes. "All that happened was I wasn't listened to. Of the two people there, one said yes, the other said no, and the yes person did it anyway. The older I've become, the more stark that 29-year-old man ignoring 17-year-old me has seemed."
She describes feeling "complicit" by refusing to discuss the attack before now.
However, despite finally opening up about her assault, Elli-Bextor refuses to "name and shame" her attacker.
"I am not interested in naming and shaming the guy involved – I've Googled him and he seems to be happily going about his business and is in what looks like a happy long-term relationship," she writes. "But I do want to encourage anyone to realise where the line between right and wrong lies. I'm a mother of five young men now, and I introduce the concept of consent pretty early."
"I wasn't heard when I was 17, but I think I'll be heard now," she writes.
Ellis-Bextor has been brought back into the spotlight over the past year thanks to the popularity of her "Kitchen Disco" videos on social media. Bored while on lockdown, the singer decided to put on live performances for her fans from her home, streaming on social media sites.
The success of Kitchen Disco led to an album and tour under the name. On Saturday night Ellis-Bextor took to the stage at Birmingham Pride to perform her hits.
Ellis-Bextor began her music career in the late 1990s as the singer with rock group Theaudience before finding fame in 2000 with her vocal contributions to DJ Spiller's dancefloor anthem Groovejet. This launched a new solo career as a disco diva, with her biggest hit coming in 2001 with Murder on the Dancefloor.