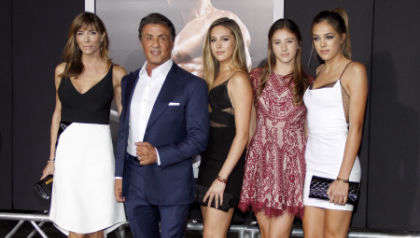 Sylvester Stallone is to star in a brand new Reality TV series called The Family Stallone.
The eight part series which will be aired on Paramount+, will see Rocky and Rambo star Stallone star alongside his wife Jennifer Flavin Stallone and their daughters Sophia, Sistine and Scarlet, as the family allow cameras in their home, to provide a behind-the-scenes look at their lives.
Paramount have said that this series will explore the "man, the myth and the legend" Sylvester Stallone as he focuses on "building for the future and raising three independent and ambitious women".
Sylvester and Jennifer tied the knot in 1997, having previously broken up and reconciled for several years in the 1980s and 1990s. In fact, Jennifer also filed for divorce last August, before the couple subsequently reconciled once again.
The daughters have followed in Sylvester's footsteps, with their youngest daughter Scarlet appearing alongside her father in 'The Tulsa King', while Sistine has also starred in Midnight In The Switchgrass alongside Bruce Willis and Megan Fox.
The Family Stallone will air on Paramount+ in the US and Canada in the Spring, before it is made available internationally.