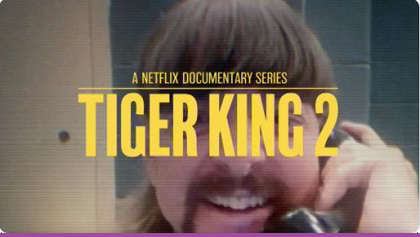 "Tiger King is coming back this year" as Netflix promises the upcoming season to be full of "mayhem and madness".
There were few things to keep ourselves occupied with when the first lockdown hit in March 2020 but for some, there was Joe Exotic. Well, get ready because the Netflix documentary, Tiger King is back for Season 2. Following the huge success of the first season, Netflix took to social media to announce that the wild docu-series is returning in late 2021.
The streaming giant cheered, "Tiger King is coming back this year" promised the upcoming season to be full of "mayhem and madness".
Tiger King is coming back this year — and Season 2 promises just as much mayhem and madness as Season 1! pic.twitter.com/mFBUxtAl6i

— Netflix (@netflix) September 23, 2021
Joe Exotic, and Carole Baskin became household names when the bonkers documentary first came to our screens and distracted us from lockdown boredom. There are not many details of the new season which we can take from the clip, although there are short glimpses of Carole Baskin, Jeff Lowe, and Exotic.
Although Exotic being seen as the main focus of the documentary, he still has yet to watch it himself. Joe is currently serving a 17-year sentence for attempting a murder-for-hire plot aimed at Baskin. Speaking from his jailcell, Joe told Netflix that he does love his new-found fame but wishes he can experience it first-hand.
Expressing remorse for his actions, Joes revealed that "when I left the zoo, I sent my chimpanzees to the sanctuary in Florida and imagined what my chimpanzees went through for 18 years, I'm ashamed of myself."
Exotic is seen speaking from the prison visitor's room in the promotional image, although it is not yet known if Baskin will be involved. Judging from her comments earlier this year, it doesn't seem likely.
Following the life of zookeeper and convicted felon Joe Exotic, the first season became a pop culture sensation at the start of the coronavirus pandemic. The rivalry of Exotic and Baskin and their big cat centres were centre stage in season 1, with 34.3 million people tuning in across the first 10 days of its release. Although possibly not a credible feat, as the majority of the world was confined to our homes.