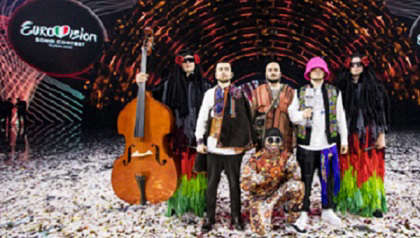 Ukraine's Eurovision winners Kalush Orchestra have confirmed plans to tour Europe in order to raise funds for the country's army as they continue to resist the Russian invasion.
This news was confirmed by their frontman Oleh Psiuk, who revealed that the band would shed more light on this upcoming tour on their Instagram account.
"At every performance, we are going to collect funds for the needs of the army", Psiuk said at a televised news conference in the western Ukrainian city of Lviv. Psiuk also hopes that Ukraine will host the Eurovision next year.
Following their victory in Turin, Kalush Orchestra made an emotional return to their country, where they were greeted at the Polish border by servicmen and women, whose cause they suported during ther time at the contest.
"Eurovision is a very important thing, especially, this year. But the life of so many people – this is much more important", Psiuk said at the border.
On plans to sell the trophy, he also added, "There are people who are simply ready to donate. This is simply to motivate them a bit more – they may own this trophy. Someone might think it is cool to have a Eurovision 2022 winner's statuette at home".
Psiuk was also reunited with his girlfriend at the border, before the group began performing their winning track Stefania. The song itself is also a tribute to Psiuk's mother.