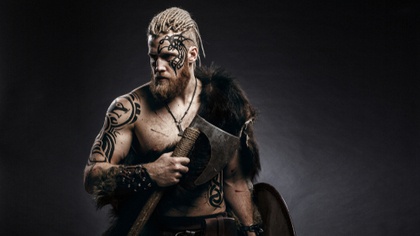 A spin-off from the hit show Vikings, which was filmed in County Wicklow, has released an early preview video.
Titled Vikings: Valhalla, the spin-off show takes place 100 years after the conclusion of the original series. Set in the early 11th century, Vikings: Valhalla explores some of the most famous historical Vikings, including Leif Eriksson, Freydis Eriksdotter, Harald Hardrada and the Norman King William the Conqueror.
With the show set to premiere on Netflix later this year, a short behind-the-scenes video has been released from the set at Wicklow's Ashford Studios.
Filming on the 24-episode series began last year but was suspended in October when several members of the cast and crew tested positive for Coronavirus, later determined to be false positive results. Filming resumed once all affected were able to return negative test results.
The original Vikings series began filming in Ireland back in 2012, and has proved a major boost to the country's film industry, providing hundreds of jobs both in front of and behind the camera.
The show has also boosted Ireland's tourism. Before COVID-19, thousands of tourists flocked to Ireland to view the scenic locations where the show filmed.
These locations include:
Lough Tay – the famous black coloured lake, which has earned the nickname "The Guinness Lake", doubles as Kattegat village, home of the show's main hero Ragnar Lothbrok.
Luggula Estate – the mountainous estate next to Lough Tay has been employed as the area surrounding Kattegat village.
Blessington Lakes – whenever you see the show's characters journeying in a Viking longship on their way to cause havoc somewhere, it's actually Blessington Lakes that they're floating down.
Powerscourt Waterfall – the Powerscourt Waterfall and surrounding estate provided the setting for one of the series' most iconic moments, the meeting of Ragnar and his future wife Aslaug.
Lough Dan – The Wicklow lake has hosted several longships since 2012.
Nuns Beach – The Kerry beach doubled as Britain's Northumbrian shore.
River Boyne – When the Vikings made their way to Paris in the show, it wasn't the Seine they were drifting down, but rather a Meath stretch of the River Boyne close to Slane Castle.
Ashford Studios – The Wicklow studio has been the base for Vikings and now its spin-off, with its state of the art facilities allowing for filming of both indoor and outdoor scenes, the latter realised with the magic of greenscreen technology.
Originally produced for the History Channel, Vikings quickly developed a cult following, eventually being snapped up by Amazon for their Prime Video service. The early seasons of the show chart the rise to power of legendary Viking Ragnar Lothbrok, played by Australian actor Travis Fimmel. Beginning as a farmer, Ragnar develops a reputation when he helps invade England, rising in stature to become a King. Later seasons are focused on Ragnar's sons, who continue his legacy by conquering foreign lands.
Vikings concluded its successful six season run last December, with fans now eagerly awaiting Vikings: Valhalla for their fix of violent action and massive beards.
Netflix have said that Vikings: Valhalla "promises to be everything that fans love about the franchise: heart-pounding, unstoppable action rooted in rich characters and dramatic storytelling that shines the light on family, loyalty and power."
Speaking about filming in Ireland and working with Irish crews, the show's Executive Producer Michael Hirst said "I am so happy that we are returning to Ireland and Ashford Studio in glorious County Wicklow, which has been our home for the last eight years. Our Irish crew, in my opinion, is the best and most professional crew in the world. And it has been a particular joy to me, shared with my producer Morgan O'Sullivan, that we have been able to give continuous employment to many hundreds of Irish men and women. Ireland is well known for its support of writers and drama and Vikings has benefitted, and will now continue to benefit, from both that cultural and financial support. Making a great show isn't a mechanical activity; it's a human one!"