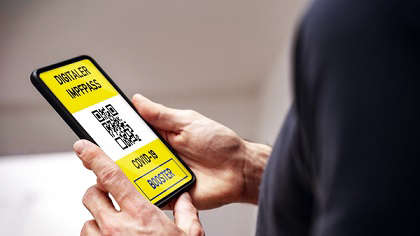 Smyth has announced that those who have received their booster should receive their updated status this evening via email or text message.
Ossian Smyth has revealed that people will receive their updated Digital COVID Certs this evening via email. The Minister of State for Public Procurement and eGovernment announced that those who have received their booster shot will soon have their status updated.
Speaking in a radio interview, Smyth revealed how the new certs will be issued, with the EU introducing new travel rules from February 1st. New rules state that current COVID Digital Certs will continue to be valid for up to 9 months following a primary two-dose course. Smyth has announced the process of sending out the new certs will commence tonight, for those who have had a booster.
In cases where a person does not possess an email address, a confirmation text message will be sent as proof of the booster and include step-by-step instructions on how to access the cert, he explained. When asked if the new cert would be required for indoor hospitality in the near future, Mr Smyth said that at present the plan was for it to be used for international travel.
Although other European countries are requiring proof of booster for access into hospitality services, it is not yet in the plans for Ireland. As reported in the Irish Examiner, however, the Taoiseach previously confirmed the approach will soon come into effect.
Martin confirmed the requirement to be triple vaccinated will eventually come, in order for people to enjoy an active social life. It was revealed that new Digital COVID Certs will be issued to provide proof that people have a booster jab.
"The HSE is now working on including the booster within the vaccination record and cert," Mr Martin said. "Government decisions will have to be taken. It is very clear to us that the benefits of the booster are very significant right now, above all, preventing severe illness from Omicron."
Meanwhile, the Taoiseach said he does not think there will be any major changes in restrictions. Mr Martin said the restrictions "we have now are set to run until the end of January and the public have responded well to adjustment of behaviour and that is having an impact."