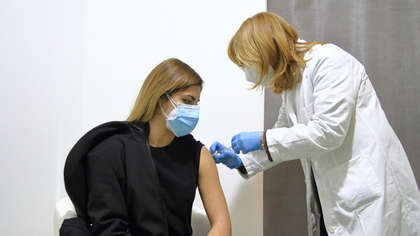 11 college campuses across the nation will be getting their own pop-up vaccination centres next week.
As part of what's been billed as "vaccination week," the clinics will be administering both first and second does to students and staff members.
Third level education reopens next week, with the government keen to get as many returning students vaccinated as possible.
The vaccines will be on offer to Irish residents and international students alike.
The clinics will be open at the following colleges:
• University College Cork;
• NUI Galway;
• Trinity College Dublin;
• University of Limerick;
• Dublin City University;
• Maynooth University;
• Munster Technological University Cork;
• Mary Immaculate College;
• Royal College of Surgeons Ireland;
• National College of Art and Design;
• Athlone Institute of Technology (Technological University of the Shannon from October 1st).
Vaccine clinics are currently in operation at University College Dublin, Letterkenny Institute of Technology, Sligo IT and Waterford IT.
"My Department and the HSE have been working together to ensure we are doing everything we can to make our third level campuses as safe as is possible," Minister for Further and Higher Education Simon Harris said. "There is no greater protection from Covid-19 than the vaccine. We have already seen a great uptake from young people and vaccination week offers anyone who hasn't received their first or second dose to seek protection."
Ireland currently boasts the EU's highest rate of vaccination among adults, with over 90% of those aged 16 or over now fully vaccinated.