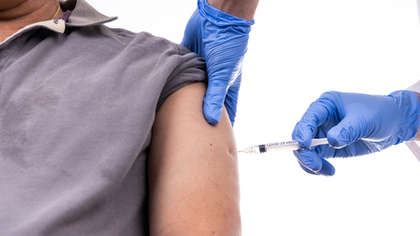 Ireland has reached another milestone in the fight against COVID-19.
90% of Irish adults (those aged 18 and over) are now fully vaccinated against the virus.
By the end of today, seven million doses of the various vaccines on offer will have been administered.
The news was announced on Friday morning by Professor Brian MacCraith, Chair of Ireland's taskforce on Covid-19 vaccinations.
MacCraith reminded those who recently received their second dose that "vaccines need time to work; it requires 7-14 days to build your immunity after Dose 2."
According to the most recent stats provided by the HSE, 3.5 million people have received at least one vaccination dose, with 3.25 million people fully vaccinated with two doses. More than 234,000 people have received the single-dose Janssen shot.
The most popular vaccine was the Pfizer-BioNTech vaccine, administered to 71.4% of vaccine recipients. 17.1% received the AstraZeneca vaccine, 8.1% the Moderna vaccine and 3.4% the Janssen vaccine.
The Department of Health announced this week that elderly people who were vaccinated at least six months ago will receive a booster shot. Those aged 80 and over, along with those aged over 65 living long-term in residential care facilities, will receive a third shot or either the Pfizer or Moderna vaccine, regardless of which vaccine they initially received.