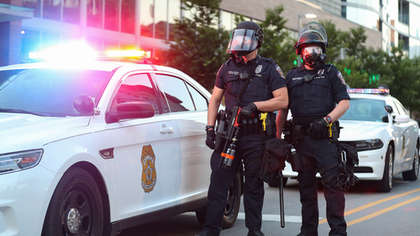 Derek Chauvin, the 45-year-old former Minneapolis police officer convicted of murdering George Floyd, has filed an appeal against his conviction.
Chauvin's appeal cites 14 complaints regarding his trial, which drew much attention from the world media earlier this year.
The former cop was sentenced to 22 years in prison in June for the murder of Floyd, a 46-year-old African-American man who died after Chauvin knelt on his neck for 10 minutes.
The incident was filmed and went viral, leading to demonstrations against police brutality across America and much of the world, including Ireland.
Chauvin is now accusing the state of prejudicial misconduct. During the trial, several high profile American political figures, including President Joe Biden, publicly expressed their wish that Chauvin be found guilty.
The appeal also highlights several issues with the jury selection and accuses the court of "abusing its discretion" in denying requests to postpone or move the trail and sequester the jury.
During the trial, Floyd's lawyer said his client had followed police procedure and blamed Floyd's health issues for his death.
It took less than 10 hours for the jury to convict Chauvin at the end of the trial in April.
Chauvin was found guilty of second-degree murder, third-degree murder, and second-degree manslaughter.
Three other police officers involved in the incident are set to face state charges in 2022.