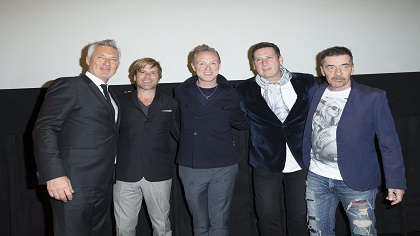 Gary Kemp has been awarded the BMI Icon Award at a ceremony in London for his contribution to music.
BMI (Broadcast Music Inc.) is the largest music rights organization in the U.S.
A founding member of iconic new wave band Spandau Ballet, Kemp wrote all of their 23 hit singles.
His work includes the classics "True" and "Gold," as well as "Through the Barricades," "Only When You Leave," "To Cut a Long Story Short" and "Chant No. 1."
His songs have also been featured in films, TV shows, and ads around the globe.
His smash hit "True" was released 40 years ago, and has since received over five million airplays in the US alone.
Kemp is now a successful solo artist, actor, and podcaster. He has also composed two musicals.
Kemp's songs have spent a combined total of over 500 weeks on the charts and garnered over 25 million record sales.
Along the way, he has picked up a Q Award, a BRIT Award, an IVOR Novello for Outstanding Song Collection and multiple BMI Awards.
Kemp spoke to the Press Association about his newest honour and the legacy of his music:
"I'm the same whenever I get told anything about me that's nice, I feel a great sense of imposter syndrome.
"I'm still making records, I still made music, my records are still being played and embraced in different ways, and become part of the ether really, so it's nice.
"Certain generations of people hearing music in their formative years will carry that music under their skin for the rest of their lives and that is something to be thrilled about," he said.
Kemp added: "Some songs have stood the test of time and become part of the British songbook, you feel very proud. At the same time, it becomes extra baggage every time you sit down to write a song now."
After being presented with the award, Kemp gave a live performance of "True."