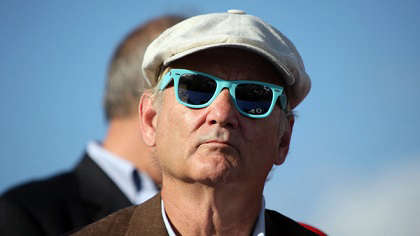 Ahead of the release of New Worlds, Bill Murray and his musical collaborators belted out a few songs in Washington Square Park to fans' delight.
Bill Murray made a special appearance at New York's Washington Square Park, where he performed poetry and songs including, I Feel Pretty from West Side Story. Known for such classics as Ghostbusters, Groundhog Day, Scrooge, and many more, the 71-year-old actor decided to set up a more impromptu performance.
The renowned actor had been mystifying for his upcoming film, New World, which documents his 2021 concert at the Acropolis in Athens. Reacquainting with his team, cellist Jan Vogler, violinist Mira Wang, and pianist Vanessa Perez, Murray serenaded the passing public with Porgy and Bess classic, It Ain't Necessarily So.
According to Page Six, the lovable actor even invited the crowd to join him in song, before reciting some poetry by Lawrence Ferlinghetti, who he noted, "spent some time in this park." In classic Murray shtlye, the actor then gave his renditions of West Side Story's America, and I Feel Pretty to his adorning fans. You can check out the videos of the small concert below.
However, it was not long before the performance was shut down, with Murray announcing, "The cops say we have to turn off the microphones. Let's rip this place apart!" A number of people managed to catch the impromptu performance, including Karen Duffy, the producer of Andrew Muscato's documentary New Worlds.
The upcoming film documents Murray's evening of music and stories at the Athens' Acropolis, the reason for Murray's appearance. The premiere of New Worlds will be held at Village East on none other than February 2nd, Ground Hog Day!!
Murray recently appeared in Ghostbusters: Afterlife and, joined a reunion of the original Boys in Gray on Fallon. Last year, the actor revealed that he had been involved in filming a scene for Ant-Man and the Wasp: Quantumania.
Stumbled into Bill Murray singing "I feel pretty" with a classical trio in WSP. I love New York so so much. pic.twitter.com/rlYjdWwTCj

— Murray Levison (@MurrLevison) January 19, 2022
Bill Murray puts on surprise musical performance in NYC park https://t.co/tFRhO7B8W6 pic.twitter.com/y1f1vqPSgf

— Page Six (@PageSix) January 20, 2022