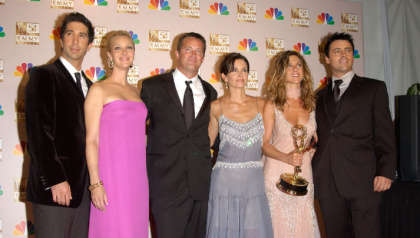 The Friends reunion director Ben Winston has said that people can "sometimes just be unkind" following speculation about Friends star Mathew Perry 's health during the airing of the special reunion show last week.
Last week, Perry joined Courteney Cox, Lisa Kudrow, Jennifer Aniston, Matt Le Blanc and David Schwimmer as the cast reminisced about their time on the show.
Recently, people had also expressed concerns when Mathew Perry appeared to be slurring his words during the reunion show last week. However, it appeared that they were worried about nothing as the reason for the Friends star's slurred speech was due to a dental procedure that the actor had undergone just hours before filming started, according to those closest to the actor.
Perry had previously spoken about his addiction to painkillers. This addiction started after he suffered a jet-ski accident in 1997. Some fans however, continued to express their concerns regarding Perry's health on social media.
"People can sometimes just be unkind"
When asked about the actor's health by The Hollywood Reporter, the Friends Reunion director Ben Winston said this, "Yes, he was great. People can sometimes just be unkind. I wish they weren't".
"I loved working with him", he added. "He's a brilliantly funny man and I thought he had some great one-liners in the show".
Winston also said that it was an honour to work with Perry for this reunion show.
"I felt just happy and lucky to be in his presence and directing him on something like this".
"Stronger and better"
Friends producer Kevin Bright also told The Hollywood Reporter that Perry seemed "stronger and better" since the last time he saw him.
"I talked to him", he added. "It was great seeing him again. And what people say is what people say".
"I don't have any to say about that, except it was great to see him. And I think he's very funny on the show", continued Bright.
"But yes, I think he's OK. He seems stronger and better since the last time I saw him, and excited about going forward".
Here's a reminder of why Mathew Perry's character from Friends, Chandler Bing was loved by so many.