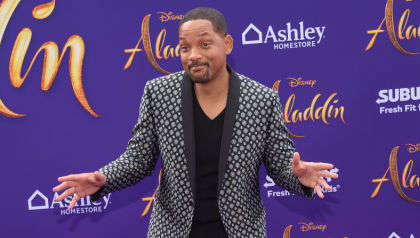 Will Smith is to reprise his role as the Genie in the sequel for Aladdin.
A role which is set to see Smith play a bigger part than his role in the 2019 Box Office Hit, will show the actor in his first role since the much publicised Oscars spat with Chris Rock, which saw Smith slap the comedian in the face on stage.
This came about after Rock had joked about Smith's wife Jada Pinkette-Smith's baldness, while presenting an award on the night. Jada had been diagnosed with alopecia in 2018.
The incident saw Smith handed a 10 year ban from all Academy events, including the Oscars ceremony.
Smith has since apologised profusely to Rock.
"quite surprising"
Following this, a source has revealed that Will Smith is set to return to the screens when he reprises his role as The Genie.
"This would be one of the first movies Will has shot since the Oscars slap and it is quite surprising, given that it will be for a kids' film", the insider said. "He has done a lot of work on himself and the consensus is that it will all be very much in the past by the time the movie is released.
"The first film was a huge success so it would be silly not to make another, and it would be a real shame to have to re-cast Will over what happened", they added. "So Disney is keen to stand by him and bring him back into the fold".
The first Aladdin directed by Guy Richie, was released in 2019, and was a Box Office hit, earning over £800 million.