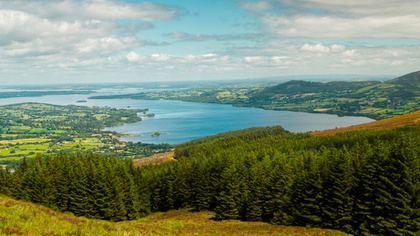 The Lough Derg RNLI lifeboat was called into action when a 52' cruiser ran aground at Goat Road with 12 people onboard.
At 6.15pm on Tuesday, June 22nd, the Lough Derg RNLI lifeboat received a request to attend the scene from watch officers at the Irish Coast Guard's marine rescue sub centre on Valentia Island in Kerry.
The lifeboat arrived at the scene at the raised shoal for migrating birds at Goat Road at approximately 6.47pm. The cruise hire company had also arrived and was attempting to refloat their cruiser. The lifeboat officers were stood down upon reporting the situation to staff at the Valentia marine rescue sub centre. The lifeboat departed the scene and arrived back at its station at 7.04pm.
Lifeboat Operations Manager at Lough Derg RNLI Christine O'Malley advised anyone sailing on the lake to "plan your passage, study your charts and don't stray off the charted navigation routes."
The LoughDerg RNLI had a moment of fame last year when its volunteers were featured on the BBC series Saving Lives at Sea.