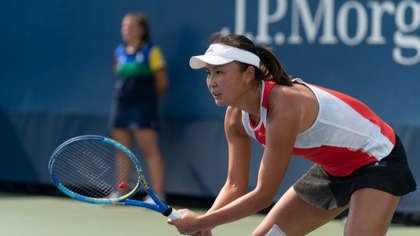 Chinese tennis star Peng Shuai has now denied the accusations of sexual assault she previously appeared to make against a high-ranking Communist Party official.
On November 2nd Peng appeared to make a post on Chinese social media platform Weibo in which she accused former vice premier Zhang Gaoli of sexual assault. She subsequently disappeared from public view, leading to speculation that she may have been silenced.
In a new video posted by Chinese newspaper The Lianhe Zaobao, Peng denies the assault and says she has been staying at home in Beijing and is free to move as she pleases.
"First of all, I want to emphasise something that is very important," she told The Lianhe Zaobao. "I have never said that I wrote that anyone sexually assaulted me. I need to emphasise this point very clearly."
Peng failed to elaborate on how or why the post appeared on her Weibo account last month.
The tennis star was filmed at a promotional event for next February's Beijing Winter Olympic Games alongside other prominent Chinese athletes, including NBA star Yao Ming.
The Women's Tennis Association had suspended all events in China in reaction to what the organisation believed was a silencing of Peng by the country's government. WTA chief Steve Simon has called for the Chinese authorities to investigate Peng's previous claims and allow her to speak to his organisation.
Representatives of the International Olympic Committee have said they believe Peng is fine after speaking with her on a video call.