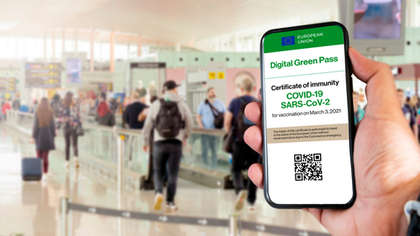 Under new rules, the European Union Covid-19 certificate will be valid for nine months after completion of vaccination.
The rule will come into effect from February 1st across all 27 EU member states. Fully vaccinated travelers will be legally allowed to enter any EU states.
Member states can impose further restrictions such as quarantine or the requirement of a negative test. Some states are currently requiring negative tests for all travelers, regardless of their vaccination status.
Following a booster dose, the pass will be extended. The specific period has yet to be decided amid uncertainty regarding the effectiveness of the booster against the Omicron variant.
The Omicron surge continues across the world, with the US reporting that it is now the dominant strain in the country. 73% of new cases last week were attributed to Omicron, up from just 13% the previous week.
Pandemic adviser Dr Anthony Fauci has predicted "a tough few weeks to months as we get deeper into the winter."
In response to the surge, New Zealand has postponed its plans to reopen its borders on a phased basis until next February.
"All of the evidence so far points to Omicron being the most transmissible Covid-19 variant yet," New Zealand's Covid-19 Response Minister Chris Hipkins said. "There's no doubt this is disappointing and will upset many holiday plans, but it's important to set these changes out clearly today so they can have time to consider those plans."
"It's unfortunately not a case of if (it spreads in New Zealand) but when," said the country's Prime Minister, Jacinda Ardern, of Omicron.