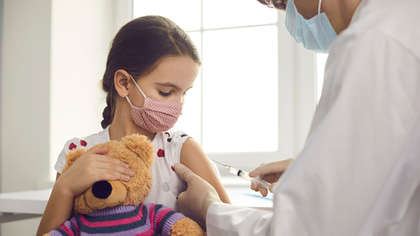 Children aged five to 11 are eligible for COVID vaccination from today.
All children in the age group who are registered with the Health Service Executive will be offered appointments to receive a jab.
Children at risk of severe illness and those who live with a member of an at-risk group have already been offered vaccines.
"While we know that most children in the five to 11 age group will experience a very mild form of this disease, for a small few, they may become severely ill," said Chief Medical Officer Tony Holohan. "Vaccines are doing an excellent job of preventing severe illness and disease in those who are fully vaccinated. This is good news. Getting your child vaccinated is a decision between you and your child. I encourage all parents and guardians to engage with the trusted health advice available on the HSE website, and with your own family clinician if you have any concerns about bringing your child for this vaccine."
HSE Chief Executiver Paul Reid has said the Omicron wave is having a "very significant impact" on hospital staffing.
"In particular where we're seeing a high level of impact is in our frontline staff," he said. "Of the numbers we are reporting [that are] out, about 35% of those are nursing and midwives, and a further 35% are people directly involved in patient and client care, health and social care professionals in our community, and indeed our National Ambulance Service."