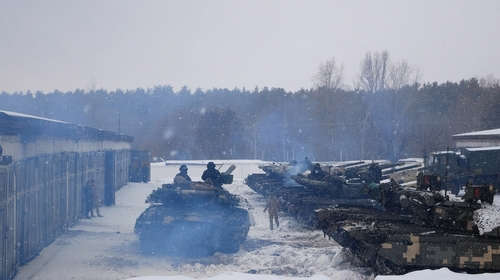 The Ukrainian government has confirmed the first deaths among its military and civilians following Russia's invasion of the country.
"I know that more than 40 have been killed and several dozen wounded," Oleksiy Arestovych, an aide to Ukrainian President Volodymyr Zelensky confirmed. "I am aware of nearly 10 civilian losses."
In the early hours of Thursday morning, Russian President Vladimir Putin ordered his troops to advance into Ukraine, launching an immediate air and ground assault.
"I have decided to proceed with a military operation," Putin announced in a video address.
Explosions were heard in the Ukrainian capital Kyiv and other cities.
Martial law has been declared by President Zelensky.
Major General Valeriy Zaluzhny, the highest ranking official in Ukraine's military, said his President had ordered him to "inflict maximum losses against the aggressor."
Ukraine's foreign minister Dmytro Kuleba condemned Russia's actions.
"Putin has just launched a full-scale invasion of Ukraine," he tweeted. "Peaceful Ukrainian cities are under strikes. This is a war of aggression. Ukraine will defend itself and will win. The world can and must stop Putin. The time to act is now."
Russia's escalation follows its announcement on Monday that it would recognise two separatist territories in Eastern Ukraine. Putin has accused Ukraine of committing genocide in the regions.
Ryanair has suspended all flights to and from Ukraine for the next 14 days.
UEFA is set to take the Champions League final away from the Russian city of St. Petersburg as western nations begin to impose sanctions on Russia.