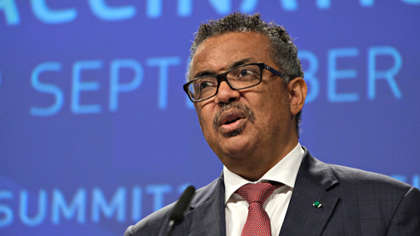 World Health Organisation chief Tedros Adhanom Ghebreyesus has warned of a "tsunami of cases" as the Omciron variant surges globally.
The variant, which is the most transmissible strain to emerge yet, is setting new case records around the world, including Ireland, with over 16,000 new cases recorded here on Wednesday. The US, UK, France and Denmark also saw record-breaking case numbers this week.
Globally, 6.55 million new cases were recorded in the week up to Tuesday, the highest total since the pandemic was declared in March 2020.
"I am highly concerned that Omicron, being more transmissible, circulating at the same time as Delta, is leading to a tsunami of cases," said Ghebreyesus. "This is and will continue to put immense pressure on exhausted health workers, and health systems on the brink of collapse."
Hospitals have begun to be overwhelmed in the US, where a seven-day average of new cases of 265,427 was recorded. With a shortage of available tests, the true figure is believed to be far greater.
Many countries have cancelled New Year's celebrations. The UK Prime Minister Boris Johnson has been criticised for refusing to curb celebrations. Johnson has defended his stance by pointing out that 90% of the UK's ICU patients had yet to receive a booster vaccine.
Wednesday saw the UK report a record 183,037 new cases while France recorded over 200,000 cases. Denmark currently holds the highest infection rate in the world and recorded a record 23,228 new cases on Wednesday.