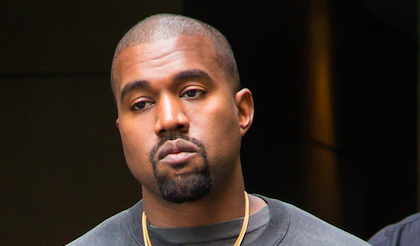 Kanye West was joined by fans at Chicago's Soldier Field on Thursday (Aug 26) for a listening event for the rapper's long-awaited album 'Donda'.
Viewers of the event were stunned when, during the final track, Kanye seemed to be set on fire before being greeting by a woman in a wedding dress. While the woman's face was concealed by a veil, many fans speculated that she was either Kanye's ex-wife Kim Kardashian or a look-alike.
TMZ later reported that the bride was indeed Kim Kardashian clad in a Balenciaga Couture wedding gown.
Kim's sisters Kylie Jenner and Khloe Kardashian both shared the event on social media calling the stunt "insanely beautiful".
Several other surprises popped up throughout the night, including the fact that features from Jay Z and Kid Cudi that had been heard at previous listening events had been mysteriously cut this time around.
Jay Z's verse was seemingly replaced with a feature from DaBaby, who faced widespread backlash earlier this summer following a series of homophobic comments.
Additionally, Marilyn Manson could be seen standing on the porch of a replica of West's childhood home throughout the show. In May the rocker was accused of rape and assault by his former partner.
Thursday's performance marked the third listening event for Donda, following July 22 and August 5 performances at Atlanta's Mercedes-Benz Stadium.
Fans are still curious as to which tracks and featured collaborators will be included on the finalized album as well as when the record will drop, having been pushed back from July to August, and with Apple Music currently listing September 5th as the official release date.