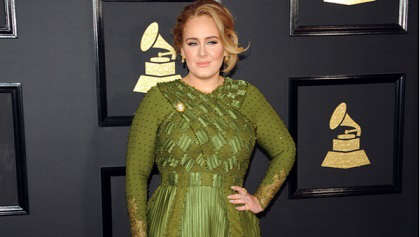 Adele has announced that she will perform at the 2022 Brit Awards.
The singer confirmed this news via her Instagram account. This comes after she had been forced to cancel her Las Vegas residencey due to ongoing Covid concerns.
Alongside a photo of herself holding a ten of hearts card, Adele wrote, "Hiya, so I'm really happy to say that I am performing at the Brits next week!!".
She also confirmed that she will stop by the Graham Norton Show for an interview, "Anddddd I'll also be popping in to see Graham for a chat on the couch while I'm in town too! I'm looking forward to it!".
She also appeared to update fans, following rumours that herself and current boyfriend Rich Paul were not seeing eye to eye recently.
"Oh, and Rich sends his love," she added.
The Brit Awards take place on February 22, exclusively on ITV. It will also include performances from Ed Sheeran, Dave and Little Simz.