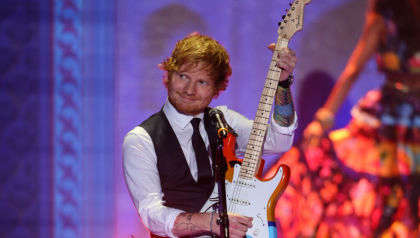 Ed Sheeran has announced a set of UK and Europe Arena tour dates, along with the forthcoming release of a brand new album.
The tour itself, will see Sheeran hit cities like Paris, London, Dublin, Manchester and Glasgow over March and April. The album titled '- (Subtract)', will arrive on May 5.
Sheeran will include hits from his back catalogue at these shows, along with an as yet unnanmed new single.
"I had been working on 'Subtract' for a decade, trying to sculpt the perfect acoustic album, writing and recording hundreds of songs with a clear vision of what I thought it should be", Sheeran said of the album. "Then at the start of 2022, a series of events changed my life, my mental health, and ultimately the way I viewed music and art".
The tour dates are as follows:
MARCH
Thursday 23 – Manchester, AO Arena
Friday 24 – London, The O2
Saturday 25 – London, The O2
Tuesday 28– Glasgow, Hydro Arena
Thursday 30 – Dublin, 3Arena

APRIL
Sunday 2 – Paris, Accor Arena
Tickets for these shows are available next Friday (10 March) at 9am, with pre sale tickets arriving on March 7.
On top of this, Ed Sheeran also revealed that his wife Cherry was diagnosed with a tumour while she was pregnant with their second child.
This along with a series of other events including the death of his friend Jamal Edwards and copyright claims over his track 'Shape of You', caused a huge strain for the singer.
"Within the space of a month, my pregnant wife got told she had a tumour, with no route to treatment until after the birth. My best friend Jamal, a brother to me, died suddenly and I found myself standing in court defending my integrity and career as a songwriter. I was spiralling through fear, depression and anxiety", Sheeran said. "I felt like I was drowning, head below the surface, looking up but not being able to break through for air".
"As an artist I didn't feel like I could credibly put a body of work into the world that didn't accurately represent where I am and how I need to express myself at this point in my life. This album is purely that. It's opening the trapdoor into my soul. For the first time I'm not trying to craft an album people will like, I'm merely putting something out that's honest and true to where I am in my adult life".