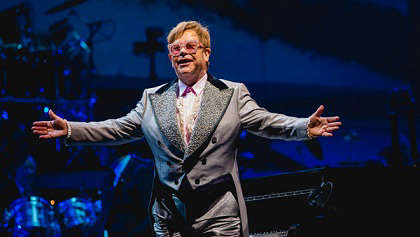 Elton John has said that he is "heartbroken" over ths current situation that Ukraine finds itself in, branding it a "nightmare".
Over the weekend, the music icon took to Instagram to show his support for Ukraine after Russian president Vladamir Putin ordered a military attack on the country last week. Ukraine have severed diplomatic ties with Russia and declared marital law.
"For over 20 years, the Elton John AIDS Foundation has supported some of the most vulnerable people in Ukraine with access to HIV services and care, as part of our commitment to communities across Eastern Europe and Central Asia", Elton John wrote.
"We are heartbroken and appalled to see this conflict unfold and our hearts are with the people of Ukraine who do not deserve to live through this nightmare," he added. "During these devastating times, we stand for an end to the violence and suffering in Ukraine so that life-saving services and humanitarian aid can reach those desperately in need".
Elton John's charity was set up in 1992, supporting HIV prevention, support sevices and education supports for those living with HIV.
Putin's actions have received widespread criticism across the globe.