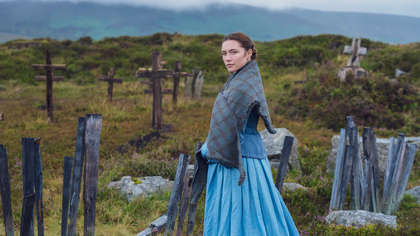 The latest major film to shoot in Ireland is Netflix's The Wonder.
The film is an adaptation of Emma Donoghue's acclaimed novel of the same name.
Set in the Irish Midlands in 1862, The Wonder stars Florence Pugh as an English nurse brought to Ireland to observe an 11-year-old believed to have survived without food for months. The village attracts tourists and pilgrims who believe the girl is proof of a miracle, but the truth may be darker.
The book and subsequent movie were inspired by the Victorian era phenomenon of "Fasting Girls." In the late 19th century, several cases were recorded of pre-adolescent girls who claimed to be able to survive for impossibly long periods without consuming any food. Some of the girls claimed to possess magical powers linked to their religious beliefs. Historians now generally believe the phenomena marked some of the earliest recorded instances of anorexia.
The Wonder features a host of Irish acting talent including Niamh Algar, Elaine Cassidy, Kíla Lord Cassidy, David Wilmot, Ciarán Hinds, Dermot Crowley and Brían F. O'Byrne. British stars Tom Burke and Toby Jones also feature.
The film is directed by Oscar-winning Chilean filmmaker Sebastián Lelio, who won the Academy Award for Best Foreign Language Film in 2017 for his transgender drama A Fantastic Woman.
"Bringing the powerful novel The Wonder by Emma Donoghue to the screen not only offers me the chance to portray the collision between reason and faith, individual and community, obedience and rebellion, but also to explore my own interpretation of what a 'period' film can be," Lelio said. "I couldn't be more thrilled that the magnetic and courageous Florence Pugh will play our fierce female lead. I am also excited to be reunited with Ed Guiney and Element, to have the privilege to work with Tessa Ross and House, and honored that Netflix have chosen The Wonder as their first UK Features endeavour."
The Wonder is the first film to be commissioned by Netflix's new UK film slate. The streaming giants say their UK film slate "will create ambitious, distinctive event films to give a global platform to both established and emerging UK talent."
"The Wonder has everything we're looking for at Netflix for our UK & Ireland Film slate - a rich, authentic story that comes from these shores along with creative excellence across source material, script, director and actors," said Fiona Lamptey, Director UK Features, Netflix. "I'm incredibly excited to work with such outstanding talent on a unique female lead story. Creating opportunities for UK and Irish talent like Florence in ambitious, distinctive stories of scale - embedded in our landscape - is a key commitment for the film slate we are building here."
Emma Donoghue wrote the screenplay with Lelio and Alice Birch. Donoghue previously adapted her 2010 novel Room for the screen, receiving an Oscar nomination for Best Adapted Screenplay in the process.
The film's Irish producer, Ed Guiney, spoke of how positive the response was from Netflix to getting the project up and running.
According to Guiney, Netflix responded "decisively and passionately, with an incredibly attractive offer," when he was seeking funding earlier in the year.
"As a period film, it requires a certain budget," said Guiney. "We couldn't have insured The Wonder as an independent project in Ireland."
Guiney claims having Netflix behind the film made it easier to attract talent.
"We have managed to attract an amazing crew, but it wasn't easy," he said. "The fact we could say it's for Netflix, it's solid and it's going to happen, helped."
The Wonder has begun filming in Wicklow and Dublin and will release at some point in 2022.
Rising star Florence Pugh shared her arrival in Ireland with her Instagram followers.
Captioning a photo of the Hollywood sign in Wicklow, Pugh wrote "Less traffic, greener hills, great Guinness. A different kind of Hollywood."