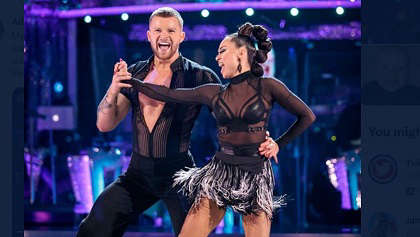 Adam Peaty has said that Strictly Come Dancing can be "the most amazing 10 hours you've ever spent" if the song is right.
Having finished bottom of the leaderboard last week, Adam Peaty and his dance partner Katya Jones returned with an Argentine Tango last week, scoring a total of 32, putting them in the runners up spot.
"I have been swimming for nearly 17 years and I'm glad I've had this challenge", Peaty told Hello Magazine.
"I've learnt so much about my body and my mental state from dancing. It's so energetic and positive", he continued. "You never know when your Strictly's going to be over so I've made sure I enjoy it".
"Swimming is very tedious to train for but with dancing, if you get the right song, it can be the most amazing 10 hours you've ever spent. I love music".
My favourite dance so far 🇦🇷 Thankyou to everyone who has sent supporting messages! I loved it 🙏🏼 To everyone who wants to see what they want, your comments have real life consequences. I will not be overcome or lowered by your gossip. Protect your energy ⚡️🖤 pic.twitter.com/qa8TamcNDY

— Adam Peaty MBE (@adam_peaty) October 17, 2021
"Not just a swimmer"
Peaty said that he loves the friendships that he has formed with other contestants. Strictly Come Dancing has aired for the last four weeks.
"I love sitting down on a Friday night with some of the others, having a glass of wine and chatting about what they do in their jobs and what I do in mine", he said. "They're a great bunch of people and we all want each other to do well".
As an Olympic athlete, Peaty is used to working as an individual. Working as part of a pair, with professional dancer Katya Jones on the show has taking time to adjust.
"As a solo athlete, I'm still getting used to having a partner and that has been a very eye-opening experience", Peaty revealed.
Professional dancer, Katya Jones is also no stranger to working with Olympic athletes on the show, having worked with Olympic boxer Nicola Adams last year, in what was the show's first all female same-sex pair.
"I've worked with athletes before and they're always prepared but I remind Adam that everyone else is doing 40 to 50 hours a week too and putting in 100% and it really shows", he said. "It's not just about the steps and hard work, it's also the connection and the feeling you leave people with".
"You don't just do the steps, you've got to perform them".