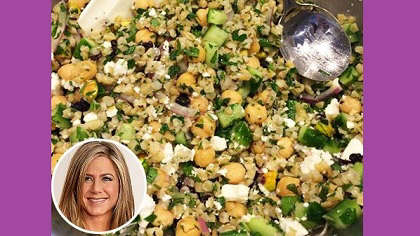 A recipe for the so-called "Jennifer Aniston Salad," which the actress ate everyday while filming "Friends," is making the rounds again.
The 'Jennifer Aniston Salad' is doing its rounds online again as people try recreating the famous, protein toss-up. Jen really put the "Green" into her iconic Friends role, keeping herself super slim and sleek season after season.
Eating the same salad, every day, for ten years is no hidden secret of Jen's, who is known for her "way with food." The 53-year-old actress had eaten the same salad on-set every day, while filming for the classic, 90s New York sitcom. Ten years of the same combination of dressed herbs, vegetables, and grains, day-in, and day-out.
Almost 18 years since the show ended, Jen, and her friends, have continued to eat the hardy, protein-packed, miracle dish. That is including her co-star, 57-year-old Courtney Cox, who revealed the super food during a 2010 interview on the lunch preparations of the female cast.
"It was a Cobb salad that Jennifer doctored up with turkey bacon and garbanzo beans and I don't know what," she told the Los Angeles Times. "She just has a way with food, which really helps. Because if you're going to eat the same salad every day for 10 years, it'd better be a good salad, right?"
The famously healthy Aniston has kept up her plant-based habits, including her Cobb salad riff that she has since "doctored up" even further. According to People, the LivingProof haircare spokesperson demonstrated her added tips in a 2015 promo for the brand.
Adapted time and time again over the years, the Jennifer Anniston Salad has seen multiple tweaks to the original recipe. Now, it is making its rounds again across social media platforms, including Instagram and TikTok, as this enduring salad should be in everyone's recipe arsenal.
As the original recipe has since disappeared, critics have found it hard to confirm the provenance of the current, viral recipe - a thread which apparently only traces back to 2021. Nevertheless, the recipe looks incredible so, check out the below adaptation from The New York Post, and try spawn ideas to recreate your very own, unique salad.
The Jennifer Aniston Salad
3.5 cups cooked bulgur wheat
2-3 chopped small cucumber
1/2 cup chopped parsley
1/2 cup chopped mint
1/3 cup chopped red onion
1/2 cup chopped pistachios
1 (15oz) can chickpeas, drained and rinsed
Juice of 1 lemon
1/4 cup extra virgin olive oil
Salt & pepper
1/2 cup crumbled feta
Then, simply toss your salad, and enjoy!