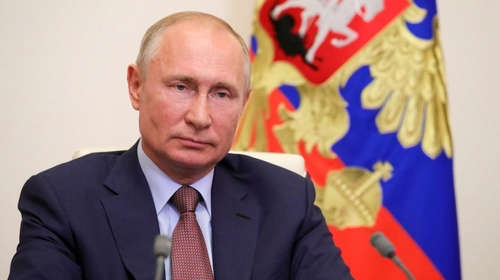 Russian President Vladimir Putin said he is willing to find a diplomatic solution to the current crisis in Ukraine, but that his nation's interests are "non-negotiable."
"Our country is always open for direct and honest dialogue, for the search for diplomatic solutions to the most complex problems," he said in a video address to the nation. "The interests of Russia, the security of our citizens, are non-negotiable for us."
Putin used his address to heap praise on the Russian military.
"We will continue to develop advanced weapon systems, including hypersonic and those based on new physical principles, and expand the use of advanced digital technologies and elements of artificial intelligence," he said. "Such complexes are truly the weapons of the future, which significantly increase the combat potential of our armed forces."
Today Ukraine advised its citizens to leave Russia immediately.
"Because of the escalating Russian aggression against Ukraine, which can lead to a substantial reduction in possible consular assistance in Russia, the foreign ministry urges the citizens of Ukraine to refrain from travel to Russia, and for those in that country to leave its territory immediately," the Ukrainian Foreign Ministry said in a statement.
Ukraine's military has called up reservists as it prepares to defend its border from a Russian invasion.
"Reservists aged 18 to 60 will be called up," a statement confirmed. "The call will start today. The maximum service life is one year."
Western nations are preparing to implement a range of sanctions against Russia should it invade its neighbour.