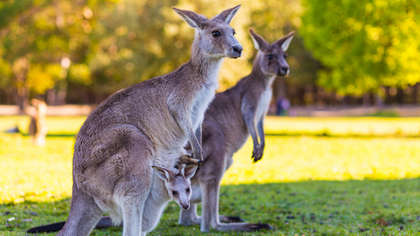 Two teenage boys have been charged in relation to a violent attack that resulted in the deaths of 14 kangaroos on the New South Wales south coast.
The two 17-year-old males were arrested after the corpses of the animals, including two joeys, were discovered by locals strewn across two locations near Batemans Bay.
Five adult kangaroos and one joey were found dead on Blairs Road and Sandy Place while seven kangaroos and one joey were discovered dead at the nearby Maloney's Beach area.
"It is a tragic and senseless act that has left an indelible mark on our dedicated Mid South Coast branch volunteers who attended the scene, as well as the local residents," wildlife rescue organisation WIRES wrote in a Facebook post.
"Just devastation," was how WIRES chairperson Janelle Renes described the scene. "To think of the horror they would have gone through."
One joey managed to survive the attack and was discovered by a member of the public. The animal has been named "Hope" by rescuers.
"Surprisingly, she's doing incredibly well," Renes said of Hope. "It took about two hours to warm her up and to see any real signs that she was going to survive."
"We try to educate people in changing their points of view and teaching people that we have to look after our animals," Renes said of the work done by WIRES. "It's a privilege to have them [the kangaroos] here."
The two teens will appear before a children's court in November.