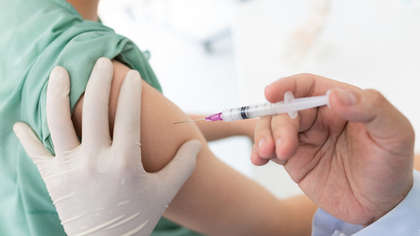 A Limerick mother who was given just days to live after contracting COVID-19 has urged people to get vaccinated.
47-year-old mother of three Jackie Sheehan caught the virus in early January as the third wave was spreading rapidly across the nation. She was admitted to the ICU at University Hospital Limerick.
As a result of the virus, Sheehan suffered respiratory failure, double pneumonia and the potentially life-threatening blood infection Sepsis. Doctors feared she had days to live at one point. Ultimately Sheehan pulled through after spending a total of 190 days in hospital.
"It's so, so serious. I mean, there are people who think this isn't real, and I think a trip to ICU would definitely open their eyes," said Sheehan.
The Croom native spoke of how difficult it was to be away from her family.
"Visiting was very restricted but during some of my most critical times my husband was left in to visit," she said. "The family were told at one stage on a Thursday in the middle of March that if I was still there on the Saturday, it would be a miracle. But I'm here to tell the tale."
Sheehan is now urging anyone yet to be vaccinated to do so to avoid her predicament.
"I would definitely urge people to get the vaccine," she said. "Anyone who isn't vaccinated won't be coming anywhere near me, anyway. And that's a fact, because I'm lucky to be here, you know?"
Sheehan left the ICU at the end of April and was discharged from UHL in May. She then spent two months in rehabilitation at St Ita's Hospital, Newcastle West before being discharged on July 15th, 190 days after her first admission.
A "long recovery" is now being faced by Sheehan, who says she will need "ongoing physio for my lungs, because it wasn't looking good for them, to be honest."