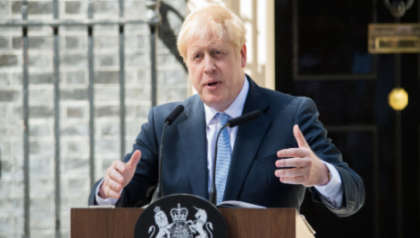 Boris Johnson is to resign as Conservative Party leader as his position was rendered untenable, following the resignation of a number of Government ministers over the last few days.
Johnson will remain as Prime Minister of Britain until a sucessor has been appointed, which is expected to happen ahead of the Conservative Party conference in October.
A source has stated that Mr Johnson spoke to chairman of the Conservative 1922 Committee, informing him of his decision.
The source said, "The Prime Minister has spoken to Graham Brady and agreed to stand down in time for a new leader to be in place by the conference in October".
This decision comes following the recent resignation of Northern Ireland secretary Brandon Lewis resigned. Lewis told the government that they need "honesty, integrity and mutual respect" and its now "now past the point of no return".
The number of MPs and Government ministers that have resigned has surpassed 50 since Tuesday evening.
Johnson was criticised for appointing Chris Pincher as chief party whip. He was accused of knowing that Pincher had been facing allegations of inappropriately groping men ahead of his appointment. Pincher was accused of groping these men at a private member's club in 2019.
Keir Starmer, Sadiq Khan and Nicole Sturgeon have reacted to the news.
The Conservatives have overseen 12 years of economic stagnation, declining public services and empty promises.

We don't need to change the Tory at the top – we need a proper change of government.

We need a fresh start for Britain. pic.twitter.com/uMxRTomXX9

— Keir Starmer (@Keir_Starmer) July 7, 2022
1. There will be a widespread sense of relief that the chaos of the last few days (indeed months) will come to an end, though notion of Boris Johnson staying on as PM until autumn seems far from ideal, and surely not sustainable? https://t.co/SQXuCC1HYH

— Nicola Sturgeon (@NicolaSturgeon) July 7, 2022
This has been one of the most shameful sagas in the history of British politics.

Boris Johnson has presided over a government defined by lies, sleaze, an utter lack of integrity, unlawful behaviour, incompetence, and a damaging culture of impunity in public office. 🧵

— Sadiq Khan (@SadiqKhan) July 7, 2022