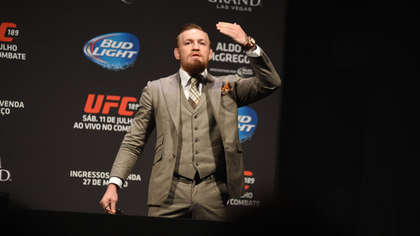 It was more MMA than VMA last night at the MTV Video Music Awards as Conor McGregor and Machine Gun Kelly squared up to one another on the red carpet.
Witnesses claim McGregor asked Kelly to join him for a selfie, a request that was denied by the rapper. As the two squared off, Kelly pushed the UFC fighter, who stumbled and spilled some of his drink before throwing the remainder over Kelly. Security guards were forced to separate the pair. A witness described the guards as "having trouble" holding McGregor back.
The two men's entourages became involved as the scuffle escalated.
McGregor was escorted away from the venue – New York's Barclays Centre – but was allowed back in after a brief cooling off period.
The former UFC champion later gave his version of events to Entertainment Tonight.
"Nothing happened with me, I only fight real fighters, people that actually fight, you know what I mean," McGregor said, mocking Kelly. "I certainly don't fight little vanilla boy rappers. I don't even know the guy. I don't know anything about him, except that he's with Megan Fox."
why mgk and connor bout to fight. #vma pic.twitter.com/cMMT7CuPNN

— naz. (@dojaclouds) September 12, 2021
Kelly was attending the awards show with his girlfriend, actress Megan Fox, who described Kelly as her "future baby daddy." The rapper was awarded a prize in the Best Alternative category for his song My Ex's Best Friend.
Walking with the aid of a cane, McGregor presented Justin Bieber with the Artist of the Year award.
"Music is such an amazing opportunity and an amazing outlet to be able to reach people and to be able to bring us all together and that's why we're here right now," Bieber said upon accepting the award. "We've got a lot more in common than we don't."
This year's VMAs marked the 40th anniversary of MTV. It was a return to an in-person event after last year's awards were presented virtually due to the pandemic.
The big prize – Video of the Year – went to Lil Nas X for the promo for his song Montero (Call Me by Your Name). The controversial video, which sees Lil Nas X twerking with Satan, has drawn criticism from America's conservative and religious groups. The rapper took to the stage for the live debut of his latest single Industry Baby before transitioning into Montero.
Olivia Rodrigo scored a double with Song of the Year for Drivers License and Best New Artist. She took to the stage to perform her song Good 4 U.
"This has been the most magical year of my life and it's all because of you," Rodrigo said. "I want to dedicate this award to all the other girls who write songs on their bedroom floor. There are a lot of people who will try to dim your light but speaking your mind and sharing your heart are the most beautiful things in the world and here's to that."
The Video for Good award went to Billie Eilish for Your Power, which tells the story of a young woman being taken advantage of by a powerful man.
"We need to protect our young women at all costs, for real," Eilish addressed the crowd.
The first ever Global Icons Award went to rockers Foo Fighters, who performed a medley of their most popular hits.
Best Collaboration went to Doja Cat and SZA for their track Kiss Me More.
There was an emotional moment as Alicia Keys paid tribute to New York on the 20th anniversary of the World Trade Center attacks by performing her hit Empire State of Mind.