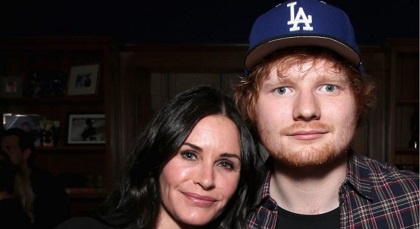 Ed Sheeran and Friends star Courteney Cox have recreated that Ross and Monica Geller dance routine from the sitcom. You can watch Sheeran and Cox's version below.
In what has become a legendary moment in the show, Ross (David Schwimmer) and Monica Geller (Courteney Cox) used their old dance routine in order to gain attention of the cameras on Dick Clark's New Year's Rockin Eve. This scene took place during season six of Friends and the episode was called The One With The Routine.
But now, Sheeran and Cox have since produced their own version of the routine.
"Dancing with a friend"
"Just some routine dancing with a friend", Courteney Cox wrote on Instagram. She also added the hashtag ReRoutine. Check out the video below.
Last week, Cox reunited with the rest of the Friends cast including Mathew Perry, Matt Le Blanc, Lisa Kudrow, Jennifer Aniston and David Schwimmer for the special reunion show of popular sitcom.
It was also revealed last week that Courteney Cox is related to Mathew Perry. The pair are distant 11th cousins according to collated research from the website MyHeritage. Perry played Cox's onscreen husband Chandler Bing in Friends.
If you like Sheeran and Cox's version of the infamous dance routine. Check out the original dance scene between David Schwimmer and Courteney Cox from that season 6 episode below. Which one do you prefer??