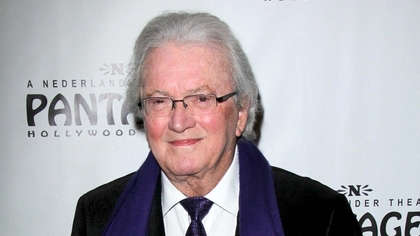 The songwriter behind some of Hollywood's most memorable tunes has passed away.
Leslie Bricusse died on Tuesday, October 19th.
His son Adam announced the news on Instagram with the caption "My Dearest Father, passed away peacefully this morning....Please raise a glass for him ...Love .... Forever.... RIP Dad .... 'Sleep in peace when the day is done ... And I'm feeling good ....'."
Joan Collins, a longtime friend of Bricusse, wrote "One of the giant songwriters of our time, writer of Candyman, Goldfinger, amongst so many other hits, and my great friend Leslie Bricusse has sadly died today. He and his beautiful Evie have been in my life for over 50 years. I will miss him terribly, as will his many friends."
Bricusse was best known for writing the lyrics to some of cinema's most famous songs, including the themes to James Bond movies Goldfinger and You Only Live Twice, and The Candy Man and Pure Imagination from Willy Wonka and the Chocolate Factory.
Born in London in 1931, Bricusse went on to form a partnership with songwriter Anthony Newley in the 1960s. Together they wrote the stage musicals Stop the World – I Want to Get Off and The Roar of the Greasepaint – The Smell of the Crowd . Later the duo would become much sought after by Hollywood, collaborating on songs for such films as Sweet November, Willy Wonka and the Chocolate Factory and Babes in Toyland.
Bricusse would collaborate with esteemed film composers like Henry Mancini (Two for the Road, Victor/Victoria, Tom & Jerry: The Movie) and John Williams (Superman, Hook).
He wrote several adaptations of Victorian literary classics, including Pickwick, Scrooge, Sherlock Holmes: The Musical and Cyrano.
In 1968 Bricusse received an Academy Award for Best Original Song for Talk to the Animals from Dr. Dolittle, while in 1982 he won the Best Adaptation and Original Song Score Oscar for Victor/Victoria. What Kind of Fool Am I? from Stop The World - I Want To Get Off won the Grammy Award for Song of the Year in 1963.
Throughout the 1960s and '70s, a host of singers had hits with songs written by Bricusse. Sammy Davis Jr. had two major hits with What Kind of Fool Am I? and The Candy Man, the latter reaching number one on the US Billboard chart. Bricusse also spawned hits for Nina Simone (Feeling Good), Matt Monro and Frank Sinatra (My Kind of Girl), Shirley Bassey (Goldfinger), Harry Secombe (If I Ruled the World), Nancy Sinatra (You Only Live Twice), The Turtles (A Guide for the Married Man), Maureen McGovern (Can You Read My Mind) and Diana Krall (When I Look in Your Eyes).
Earlier this year, Bricusse spoke of the continuing appeal of one of his most loved songs – Pure Imagination from Willy Wonka.
"It's a good thought for people, especially young people, to carry with them through life," he said of the song's sentiment. "You'll be free if you truly wish to be at the end is, to me, the most important line in the film. It's a reflective thought on how to make a life work."
Pure Imagination also lent its title to Bricusse's auto-biography. In that book he described himself as "one of the luckiest people I know, second only perhaps to Ringo Starr."
Bricusse is survived by his son Adam and his wife Yvonne Romain, an actress best known for her work in Hammer horror movies.