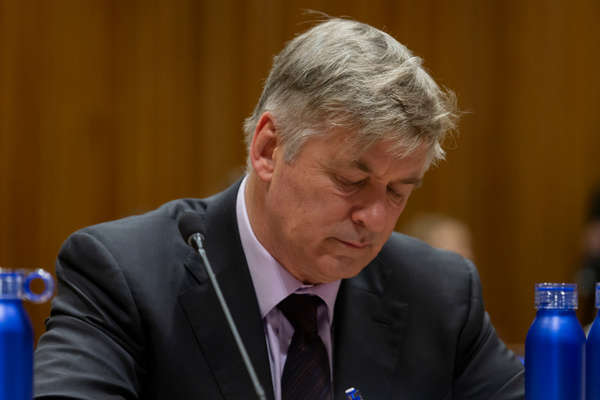 Matt Hutchins, husband of the late cinematographer Halyna Hutchins who was killed on the set of the film 'Rust', says he blames his wife's death on Alec Baldwin, as well as "industry standards that were not practiced" on set.
Halyna passed away after injuries sustained from a gunshot wound from a prop gun accident on October 21st. The incident occurred while filming at Bonanza Creek Ranch near Santa Fe for the film "Rust". Reports suggest that Baldwin was handling a prop gun when it fired off a bullet that killed Halyna, though he claims that he never pulled the trigger.
Hutchins' family filed a lawsuit against Baldwin and the film's production team on February 15, alleging that "reckless" behavior and cutting corners led to Halyna's death. Since then Baldwin has denied that the set was unsafe.
"The idea that the person holding the gun and causing it to discharge is not responsible is absurd to me," Matt Hutchins told Hoda Kotb during an interview on the TODAY show on Thursday (February 24).
"But gun safety was not the only problem on that set. There were a number of industry standards that were not practiced and there's multiple responsible parties," he added.
Halyna leaves behind her husband, Matt, as well as their nine-year-old son, Andros.
Since the incident, Baldwin has appeared on television in an interview with ABC news, claiming that "Someone is responsible for what happened, and I can't say who that is, but it's not me."
Hutchins reports being enraged watching Baldwin speak about his wife's death on television.
"Watching him I just felt so angry," Hutchins told Hoda. "I was just so angry to see him talk about her death so publicly in such a detailed way and then to not accept any responsibility after having just described killing her."
Baldwin also reports that prior to the incident, Halyna directed him to point the prop gun off set, in her direction, just before it went off.
"Almost sounds like he was the victim. And hearing him blame Halyna in the interview and shift responsibility to others and seeing him cry about it," Hutchins said. "I just feel — are we really supposed to feel bad about you, Mr. Baldwin?"
At the moment, no one has been arrested or charged in connection with the shooting according to the Santa Fe County Sheriff's Office, though the investigation in ongoing.