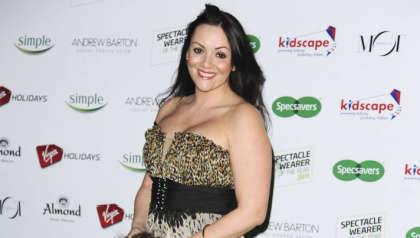 Actress Martine McCutcheon helped a woman who had her voice box removed due to cancer, perform a Christmas song for her sister.
Tanja Bange who is a former theatre performer from Leeds, had her voice box removed, after being diagnosed with throat cancer in 2020, meaning that she now speaks through a speech valve.
Thanks to the use of vocal technology, McCutcheon's vocals were transmitted from a recording studio into a smart instrument called Electrospit, which Ms Bange wore around her neck, with the throat samples travelling through her throat, allowing her to perform the Christmas carol, Silent Night.
McCutcheon was able to peform the track with Tanja Bange, who was singing this track for her sister Mia. The sisters were kept apart during the Covid lockdowns while Ms Bange was being treated, and during her early recovery.
"The hardest thing about this (having my voice box removed) was the loss of my singing voice", Tanja Bange said. "Obviously, I do still have a voice, but not the one I was born with".
"My sister and I have always been very close, and she has always been my biggest fan", the mother of two added. "Being able to surprise her on her doorstep and perform in this whole new way felt really special… I never thought I'd get to perform again in this way".
"blown away"
Both McCutcheon and Bange were able to perform in unison thanks to Vodafone 5G network.
Speaking of the technology, EastEnders star Martin McCutcheon said that she was "blown away" by it.
"To be able to partner with Vodafone to make Tanja and Mia's Christmas super magical has been a real privilege for me", she revealed. "I've been so inspired learning about the laryngectomy community and hope this project will educate the wider public on how to help remove any stigmas those with diverse voices may face".
Elswhere, Martine McCutcheon who played Hugh Grant's love interest Natalie in Love Actually, reacted to comments made by the film's director Richard Curtis, who claimed that the film's "lack of diversity" made him feel "stupid" at times.
While admitting that the script would probably be different if it was being penned today, McCutcheon also stated that Love Actually's "non PC" parts were "part of its charm".
"I think, honestly, it was 20 years ago, and the world has changed a lot, but I also think that part of the charm of the film was the fact that some of the love stories and the characters weren't perfect", the actress said in a separate interview.
"They admitted – or we saw – their flaws [and] their insecurities, whether they were real or they weren't. That's what made it so human".