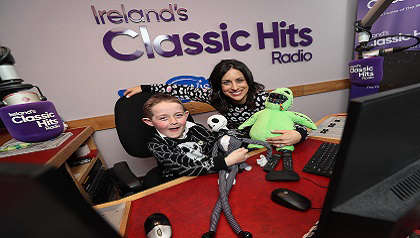 Make-A-Wish recipient James (8yrs) from Meath and Ireland's Classic Hits Radio Presenter, Lucy Kennedy, launch World Wish Day
Ireland's Classic Hits Radio will be honouring the 30th anniversary of Make-A-Wish by celebrating World Wish Day®, the charity's annual donation day (April 29th), by joining forces for a week of festivities celebrating Wish recipients with their listeners.
From April 18th to 29th, Ireland's Classic Hits Radio will share magical moments of wishes granted in Ireland to children living with life-threatening illnesses.
Listeners will also hear from some of Make A Wish's Ambassadors including Daniel O'Donnell and Imelda May.
Colm Hayes from Ireland's Classic Hits Radio, a long-time supporter of the charity, said of the campaign, "Ireland's Classic Hits Radio are delighted to be supporting Make-A-Wish, a charity close to my heart. We love to celebrate children and to help in this way is fantastic."
"Over the past year 102 children in Ireland have been the recipients of wishes. These wishes give hope to the families affected by serious illness and in many cases helped greatly in the children's medical journey. As we come out of the pandemic we plead with the generous public to get behind Make-A-Wish by donating, setting up fundraisers and by taking part in a fantastic campaign", Hayes continued.
With hope, a child with a critical illness finds light in the darkness of their current circumstances. It transforms their perspective, replacing feelings of trauma with hope for tomorrow. They have renewed motivation to persevere and heal. Make-A-Wish are asking the public to support the charity with one week of fundraising to help a child in their local communities. A wish begins with hope, and hope begins with you.
Susan O'Dwyer, CEO of Make-A Wish Ireland said, "Make-A-Wish receives no government funding and relies entirely on the generosity of the general public. We are organising a large campaign called "Wish Week" from the 24th April and culminating in Wish Day on the 29th April. During this week we will revisit some of our wish children and their families over the last 30 years through the help of Ireland's Classic Hits Radio so as you can hear their stories and learn of the impact Make-A-Wish has had on their lives. We are thrilled to have the backing of Ireland's Classic Hits Radio and believe the stories shared will add a sparkle of magic for their listeners."
James (8) from Meath, was one of the Make-A-Wish's most recent wish recipients, where his wish of a 'Nightmare Before Christmas' party became a reality. James' bright and irresistible personality made him the perfect choice to launch Wish Week, with Ireland's Classic Hits Radio's Lucy Kennedy.
It is only through public support that Make-A-Wish can go on making wishes come true.
The public can get involved by setting up a fundraiser with friends, family or colleagues such as
Wear blue day to represent a Wish for schools and workplaces,

host a quiz night

a bake sale

a sponsored run/walk/jump

or a community event to have some fun and make wishes come true.
Donations to Make-A-Wish can be made through www.makeawish.ie/donate