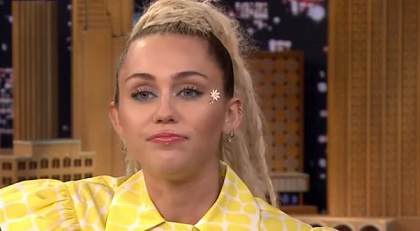 Singer Miley Cyrus has reacted positively to Måneskin's cover of her single "Midnight Sky". The recent winners of Eurovison shared a cover of Cyrus' track which you can check out below.
Måneskin who's track "Zitt e Buoni" proved to be the winning entry for Eurovision 2021, shared a cover of Cyrus' song via Twitter
After listening to the cover, Cyrus herself share the song, calling the band her "best friends".
"My best friends @maneskinoffical", she wrote.
Oh my god 1/2 pic.twitter.com/i159WLm4ri

— Måneskin News (@ManeskinNews) June 7, 2021
This is not the first time that Måneskin have covered a household name in music. In 2017, the band released a cover of the Killers "Somebody Told Me". Check that out here.
"Inspiration from these bands"
Måneskin have also covered artists like the Black Eyed Peas, Amy Winehouse and Franz Ferdinand.
Regarding the influence of such artists on the band, their lead singer Damiano David had this to say.
"We take a lot of inspiration from these bands – especially the huge bands of the '60s and '70s, but there are a lot of great bands now like Artic Monkeys,, IDLES, Slaves Royal Blood, Franz Ferdinand".
You can check out these various covers below.
The band's Eurovison victory was overshadowed after allegations of drug use were made against their frontman Damiano David.
David was filmed during the contest, appearing to be stooping over a table and sniffing cocaine.
David vehemently denied these allegations and subsequently no drugs were found in his system when tested. He claimed that he had been clearing up some broken glass from the floor.
"For us, this wasn't really a problem at all. We knew it was b*******. We never did that and we would never do such a thing on live television with 180million people watching us", their bassist Victoria de Angelis insisted.
"We've never used cocaine or other drugs so we immediately said, 'Just test us because we have nothing to hide and we don't want people to talk about stupid things like this and not our music', he continued.
"We were so happy with our victory, so we wanted to keep the focus on us and not this stupid s***".