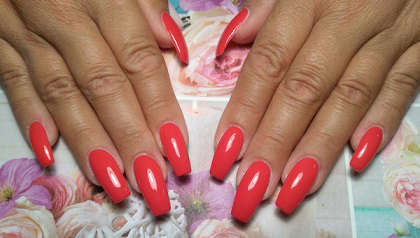 A nail technician has revealed the horrendous reason as to why people should not leave acrylics on their nails for more than 5 weeks.
Some may see it as a pennysaver, but a nail tech has said that leaving acrylics on for longer than 5 weeks could so cause severe damage to your nails.
Taking to Instagram, nail technician Hilary Herrera revealed that when your natural nail begins to grow out, your acrylics will increasingly put pressure on the nail underneath. This will eventually leave your nail weaker overall.
"Even I risk it too often?"
Herrera who often posts educational videos online on how to take care of your nails, posted another video on the site to show the dangers of leaving your acrylics on for longer than 5 weeks.
In the video, Herrera can be seen demonstrating to her fans the amount of growth to her nails when when she leaves her acrylics on for more than 5 weeks.
She explains that her nails are very sore. She added that putting pressure on the matrix, where the nail grows, turns white.
You can also run a risk of catching a nasty fungal infection if you leave the acrylics on for too long. The lifting of the acrylic will create gaps between the acrylic and the natural nail.
This will lead to the natural oils in your nail to dry out, making them even more brittle. This could lead to you breaking or possibly losing a nail.
This takes the expression "What happened, did you break a nail?" to a whole new level!!!
To conclude, it is not worth keeping the acrylics on for as long as possible just to save money. Change them regularly.
Check out that post from Hilary Herrera below.