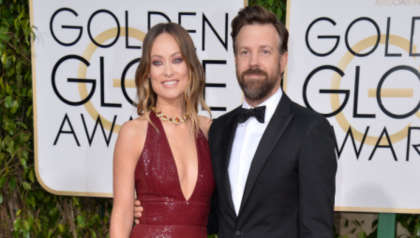 Olivia Wilde won the first custody battle with her ex Jason Sudeikis, after a judge dismissed a petition brought by the actor last October.
This custody petition was brought by Sudeikis in October 2021, which was dismissed by the judge, who decreed that the former couple's children's home state is California, according to reports.
The court papers stated that Sudeikis' initial case was dismissed, as a judge ruled that New York was their home.
Olivia Wilde wanted her children 8 year old Otis and 5 year old Daisy in Los Angeles, and possibly London where her current partner Harry Styles resides. Meanwhile, the children's father Jason Sudeikis resides in Brooklyn.
Jason Sudeikis is also preparing to travel back from the UK, after concluding filming season three for his Apple show 'Ted Lasso'.
The petition was filed by Olivia Wilde back in May, to "determine parental relationship in Superior Court of California, in LA". A bid was to legally dismiss Sudeikis' case was filed on May 18.
A legal filing also stated, "Judge Powell and this Referee agreed that New York was not the home state of the subject children; but rather California was the children's home state".
"Therefore, for the reasons stated on the record on July 15, 2022, respondent's motion to dismiss the custody petitions filed on October 21, 2021 is granted as this court finds that New York does not have jurisdiction to hear the custody petitions as New York is not the home state of the subject children".
"furious""
Back in April, Jason Sudeikis served Olivia Wilde with legal papers in Las Vegas last April. Wilde had been promoting her film 'Don't Worry Darling'.
Last month, Wilde had claimed that Sudeikis tried to aggressively embarrass and "threaten" her when she was served with the papers on stage. Wilde called this conduct "outrageous legal tactics".
"He could have served me discreetly, but instead he chose to serve me in the most aggressive manner possible", she said.
"The fact that Jason would embarrass me professionally and put our personal conflict on public display in this manner is extremely contrary to our children's best interests," Wilde added. "Since Jason has made it clear that we will not be able to work this out for our children's sakeoutside of the court system, I filed a petition for custody in Los Angeles".
However, a source close to Sudeikis insisted that he "had no prior knowledge of the time or place that the envelope would have been delivered … and he would never condone [Wilde] being served in such an inappropriate manner".
After splitting up in 2020, Sudeikis and Wilde have been co-parenting their children, living between LA, New York and London.