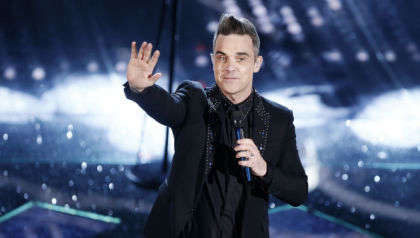 At a recent gig in Budapest, Robbie Williams has revealed that he managed to pull the same fan from the audience as he did at the same venue 20 years earlier.
The former Take That singer was peforming at Hungary's Papp László Sportaréna last Tuesday (March 14) as he celebrates 25 years a solo artist.
Following the gig, Williams took to Instagram to sharel the unlikely reunion, including a photo of the pair from the concert which took place two decades earlier.
"So this happened two nights ago in Budapest – I chose someone from the audience to come down to the front and, amazingly, I chose the same guy that I picked out from the audience in Budapest 20 years ago! The odds of that happening? 174,240,000 to 1", Williams wrote.
Friday night saw Williams complete the second of two nights at Vienna.