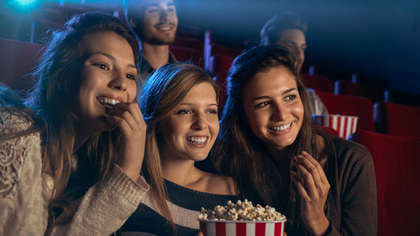 Here's our guide to the new movies opening in Irish cinemas and on Home Entertainment platforms this week.
Boy Meets Boy [VOD]
In similar fashion to the romantic classic Before Sunrise, Boy meets Boy sees two young gay men fall for one another over the course of a day spent exploring the sights of Berlin.
Brain Freeze [VOD]
The residents of an exclusive gated island community are transformed into zombies. With the island placed under quarantine, an uninfected teenager and his young sister attempt to escape.
Copilot [Cinemas]
This German film dramatises the relationship between Lebanon-born Ziad Jarrah, who became infamous for flying United 93 into the Pentagon on 9/11, and his Turkish girlfriend Aysel Sengun.
Copshop [Cinemas]
Cult action director Joe Carnahan is known for bullets and bodycounts. Expect more of this same in this madcap thriller. Gerard Butler plays a hitman who gets himself jailed in order to gain access to the conman he's been hired to kill. When a second hitman arrives, things get increasingly messy.
Four Good Days [VOD]
Mila Kunis removes her makeup to play a drug addict. Desperate to kick the habit, she must convince her mother (Glenn Close) that she's serious this time. Director Rodrigo Garcia's film is inspired by a 2016 Washington Post article on the victims of America's opioid crisis.
Herself [Cinemas]
In this Dublin set drama, a single mother finds herself homeless with two young daughters after reporting her husband for domestic abuse. Deciding to take action, she enlists a group of friends to help build a home for herself.
JJ+E [Netflix]
Swedish romance JJ+E tells the story of Elisabeth and John-John, two teenagers from wildly different backgrounds who fall in love.
Kate [Netflix]
Mary Elizabeth Winstead goes full John Wick as an assassin who discovers she's been poisoned. With only 24 hours to live, she sets out to take revenge on those responsible.
Malignant [Cinemas]
A woman is haunted by visions of strangers dying violent deaths. She soon comes to realise that they are actually premonitions of real-life killings. Setting out to prevent future murders, she discovers a connection to childhood trauma.
Martyrs Lane [Shudder]
A young girl befriends the ghost of a child killed in a tragedy in this melancholy fantasy. With the help of her ghostly friend, she helps her mother overcome the grief that has consumed her for years.
Ninjababy [Curzon Home Cinema]
In this acclaimed Scandinavian comedy, a free-living young woman is shocked to discover she's pregnant following a one-night stand. Not only that but she also begins to see an animated figure that causes her increasing irritation.
Notorious Nick [VOD]
The true story of Nick Newell, an MMA fighter who competed for the lightweight championship despite being born with only one arm.
Prey [Netflix]
A hiking trip turns deadly for five friends when they find themselves stalked through the woods by a homicidal hunter.
Respect [Cinemas]
Jennifer Hudson plays the godmother of soul, Aretha Franklin, in this biopic of the late music legend. The film charts Franklin's rise from singing in her local choir to achieving global stardom.
Sweet Thing [Cinemas/VOD]
Writer/director Alexandre Rockwell casts his daughter Lana as a teenage girl assigned to keep an eye on her younger brother while on a family holiday. When the siblings come across a young runaway they form an instant bond in this coming-of-age drama.
The War Below [Cinemas]
This World War One thriller tells the true story of how British miners were tasked with digging a tunnel under No Man's Land in the Somme to infiltrate an enemy German base.
Wife of a Spy [MUBI]
On to World War Two now as acclaimed Japanese filmmaker Kiyoshi Kurosawa directs this thriller in which a Japanese housewife begins to suspect her husband of spying for the Americans.