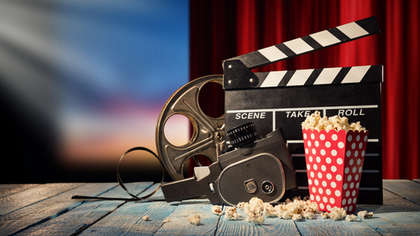 Here's your guide to the new movies opening in Irish cinemas and on Home Entertainment platforms this week.
Afterlife of the Party [Netflix]
When a hard-partying socialite dies in a freak accident, she needs to right the wrongs of her life before earning her wings as an angel
Annette [Cinemas]
Acclaimed French filmmaker Leos Carax directs this offbeat musical featuring new tunes written by art-rockers Sparks. Adam Driver and Marion Cotillard play a celebrity couple who contend with fame while raising a mutant baby. Okay then.

Bloodthirsty [VOD]
A young singer-songwriter travels to a remote recording studio hoping to work with a reclusive yet respective record producer. There she discovers an animalistic side of herself as she begins to transform into a carnivorous creature.

The Champion of Auschwitz [Cinemas]
The true story of Tadeusz "Teddy" Pietrzykowski, a Jewish prisoner of war who defeated over 40 Nazis in boxing matches held in the infamous Auschwitz death camp.

Handsome [VOD]
In this documentary, filmmaker Nick Bourne documents a trip around the world with his down syndrome brother Alex. The film explores how various cultures treat those with disabilities.

Here Today [Cinemas]
Billy Crystal plays an aging comedy writer who forms an unlikely friendship with a young lounge singer (Tiffany Haddish).

Misha and the Wolves [Cinemas]
In the 1990s, Holocaust survivor Misha Defonseca wrote a bestselling memoir, Misha: a Mémoire of the Holocaust Years. It was soon revealed to be a work of fiction. This documentary explores the scandal that erupted in its wake.

Plan A [VOD]
This thriller tells the true story of how, at the end of World War II, a group of Holocaust survivors devised a plan to massacre millions of Germans by poisoning Berlin's water supply.

Rise of the Footsoldier: Origins [Cinemas]
This latest chapter of the ongoing British crime saga stars Vinnie Jones as Tony Tucker, a military veteran who rose through the ranks of England's gangland in the 1980s.
Shang-Chi And The Legend Of The Ten Rings [Cinemas]
Marvel's latest superhero epic introduces their first Asian superhero. Simu Liu plays Shang-Chi, a retired kung-fu master called back to his old life to battle terrorist organisation The Ten Rings.

Shorta [VOD]
In this energetic Danish thriller, a pair of bickering cops find themselves trapped in a sprawling ghetto when a race riot breaks out. Targeted by the locals, they must find a way out, but neither trusts the other.

Sound of Violence [VOD]
A music student turns to murder, recording the sounds of her victims for an experimental art project.

Superhost [Shudder]
In this horror comedy a pair of travel vloggers check into an Air BnB, only to find their host is deranged and homicidal.
Wildfire [Cinemas]
Director Cathy Brady examines the trauma of the Troubles in this Northern Irish set drama. Nika McGuigan (who tragically passed away from cancer soon after completing the film) is excellent as a young woman who reunites with her sister, opening old wounds regarding the death of their mother.
Worth [Netflix]
Michael Keaton plays lawyer Kenneth Feinberg, who was tasked with coming up with a figure to compensate the families of victims of the September 11th, 2001 attacks.