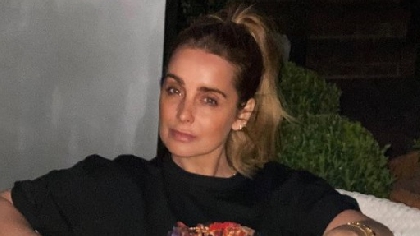 Louise Redknapp has cancelled her plans to reunite with Eternal, the 90's R&B four-piece with whom she found stardom.
This comes in response to her band-mates, sisters Easther and Vernie Bennett, apparent refusal to perform at LGBTQ events.
Both Redknapp and Eternal member, Kelle Bryan have seemingly since removed themselves from any reunion plans.
Easther and Vernie Bennett are claimed to have said that "the gay community was being hijacked by the trans community." This is apparently something that they "do not support."
Simon Jones, Redknapp's agent, said in a statement:
"A message was sent to the team putting together the Eternal reunion stating that if it was to go ahead, neither Vernie nor Easther would perform at Pride shows or LGBTQ+ festivals.
"This was because the duo felt that the gay community was being hijacked by the trans community and they do not support this.
"Louise is a huge supporter and ally of the LGBTQ+ community, and both herself and Kelle told the duo they would not work with anyone who held these views, and as such the reunion as a four would not be going ahead."
Redknapp shared an image of a trans-inclusive Pride flag on social media. The caption did not address the issue directly, but simply said: "Always and Forever." This was the title of the group's debut album, released in 1993.
Kelle Bryan said in a statement:
"My stance and allegiances have always been that I am an advocate for inclusion and equality for all."
Denis Ingoldsby, Eternal's manager in the 90's, has defended the Bennett sisters.
Ingoldsby told The Mirror that "Louise and her team have thrown them under the bus and everyone is totally appalled at their bullying behaviour by totally misrepresenting the situation to suit their own agenda."
He added: "Vernie said she had some concerns about the Pride movement being hijacked - and she is not alone - but this has now been weaponised against her."
Redknapp's agent Simon Jones responded saying:
"The fact remains that the duo said they would only do the Eternal reunion if no Pride or LGBTQ+ festivals were included.
"Louise would obviously not agree to excluding the LGBTQ+ community from their touring plans. We as a team absolutely do not agree with dividing the LGBTQ+ community or excluding trans people."