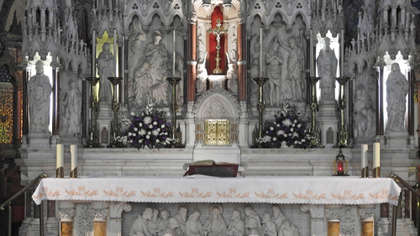 The Archbishop of Dublin Dermot Farrell has given priests permission to resume confirmations and communions.
The go-ahead by the Archbishop is in contrast to public health advice.
Farrell wrote a letter to 200 parishes outlining his approval of a resumption of the ceremonies, which were curtailed by the pandemic.
In the letter, Farrell tells priest that they can conduct smaller and shorter ceremonies where it's safe to do so.
He's joined by five other bishops around the country who have also encouraged a return of confirmations and communions.
Farrell believes the public health guidelines are "discriminatory."
"It would be prudent to ensure that families confirm their awareness of the public health guidelines regarding household mixing," the Archbishop wrote in his letter.
Farrell acknowledged that restrictions are "justified for grave reasons of public health." However he drew attention to the government's fears that communions and confirmations could lead to large family gatherings.
"This is perplexing, as no such prohibitions were applied to other events such as sporting or civic events or other family occasions," he wrote.
Junior Children's Minister Anne Rabbitte expressed disappointment at the Archbishop's stance.
"I'm disappointed they're not showing more leadership," she said of the Church hierarchy. "Covid doesn't need much to spread and unfortunately, gatherings after communions and confirmations - that's where it happens."