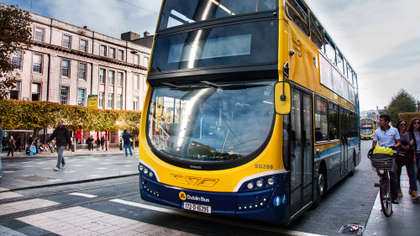 Dublin Bus is trialling a new hydrogen bus this week.
The new double-decker bus is being tested today and Thursday on a modified version of Route 9.
The bus will simulate real driving conditions and will be tested for its emissions and energy efficiency. Costs and infrastructural requirements will also be measured as part of the trial.
Last November a similar test was carried out on a single-decker hydrogen fuel-cell bus.
The testing is part of the Department of Transport's Low Emission Bus Trial.
Previous trials have been held to test alternative fuel technologies such as electric, hybrid and gas technologies.
"We are now in the final stages of testing alternative fuel technologies which will inform how our bus fleet will operate and how we can support a sustainable transport system across Ireland," said Minister for Transport Eamon Ryan. "In line with climate action targets, we are investing in alternatively fuelled vehicle technology across bus and rail with the objective of transitioning all public transport to low-zero emission fuels and technologies."
"I am delighted to welcome this trial which will provide practical insight into the operation and impact of hydrogen technology and allow us to assess it alongside other previously tested bus technologies," Ryan added. "By examining all available technologies, we can best determine how to power our future urban bus fleets while improving sustainability and reduce greenhouse gas emissions."
The findings of the latest trial will be published later this year.