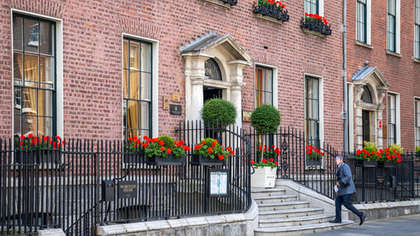 Clontarf Councillor Catherine Stocker has expressed her anger at the Merrion Hotel controversy.
Following the death of her infant daughter Anna just weeks after her birth in December, Stocker was unable to see her loved ones for months due to the restrictions implemented amid the third wave.
Stocker said she "had to spend time in her grief calculating who to invite" to the funeral due to the limited numbers allowed.
Former minister Katherine Zappone has been widely condemned for hosting a gathering of 50 people at Dublin's Merrion Hotel with Tanaiste Leo Varadkar in attendance. The gathering was held on July 21st. Six days later Zappone was appointed to a newly created role of Special Envoy to the United Nations.
The Social Democrats' Stocker took to Twitter to express her anger at Zappone's gathering.
"I buried my daughter in December - with 18 people there - we had to spend time in our grief calculating who to invite and couldn't hug our family and friends who were there," she wrote. "We expect more than the letter of the law from our public reps."
"While 'indoor dining' was open in December and people were having pints, the parents' room beside the NICU was closed and five days after a C-section I was walking around Parnell Street for hours at a time every time the staff needed us to leave the NICU. People have made huge sacrifices," Stocker added.