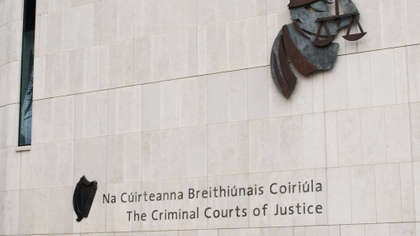 A Dublin gang member has received six and a half years in prison for his role in a foiled murder plot.
Douglas Glynn pleaded guilty last November to placing a tracking device on a car owned by James Gately, a member of the Hutch criminal gang.
Gately had found himself in the middle of a feud between the Kinahan and Hutch gangs, with the former believing he was responsible for the 2016 murder of David Byrne at the Regency Hotel.
In 2017 Imre Arakas, an Estonian hitman, arrived in Ireland with the intent to murder Gately. Arakas was apprehended by gardaí before he could carry out his orders. The hitman was jailed for six years in 2018.
The charges against Glynn relate to activities he carried out between December 7th, 2016 and April 6th, 2017, which connect him to a plot to kill Gately. He was caught on CCTV placing a tracking device on Gately's car at one point. Gardaí had intercepted communications that suggested a tracker would be placed on a car belonging to Gately's sister, and the following day the device was put in place.
At the Special Criminal Court on Monday morning, Justice Hunt passed down a sentence of seven and a half years, with the final year suspended.
It follows last September's sentencing of Peter Keating, who received 11 years for his role in the targeting of Gately.
In May 2017, Gately survived being shot five times while at a petrol station on the Clonshaugh Road in North Dublin.