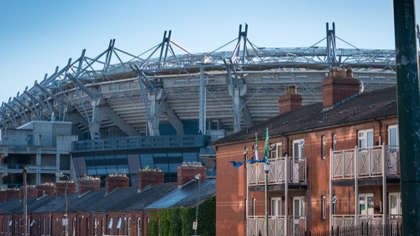 Gardaí are investigating alleged breaches of COVID-19 regulations at an unnamed licensed premises in the vicinity of Croke Park.
The breaches are believed to have occurred following Sunday's All-Ireland final.
Several licensed premises in the area were forced to close temporarily due to anti-social behaviour and failure to implement social distancing rules.
"As part of the policing plan for yesterday's All-Ireland final, and following reports of anti-social behaviour and a lack of social distancing among crowds, gardaí conducted a number of inspections of licensed premises in the Croke Park area," gardaí said in a statement. "A number of these premises were asked to temporarily cease trading in the interest of public safety. Gardaí are carrying out enquiries into alleged breaches of Covid Regulations at one of these premises."
Croke Park was opened to 40,000 fans for Sunday's hurling final between Cork and Limerick.
Fans were required to social distance and wear masks but many were pictured maskless during the match.
The GAA had advised those attending the final to "not congregate with other friends or fellow supporters outside the stadium," but thousands of fans were pictured huddling in large groups before and after the match.
Fine Gael TD Ciaran Cannon argued that it was hypocritical to allow such large crowds for a sporting event while live entertainment is still essentially banned.
"Delighted for all GAA fans that attendance at matches is possible again, but it's simply no longer credible to argue that what's happening in Dublin today is safer than musicians performing to a couple of hundred people indoors. It's not."