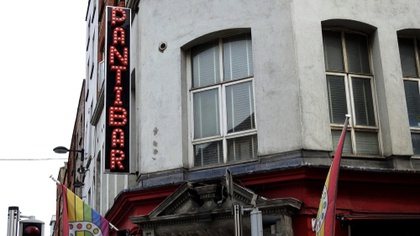 An investigation is underway to find those responsible for homophobic graffiti daubed on the exterior of a building next to Dublin's Panti Bar.
At some point on Sunday night the words "Pedo Bar" were painted on the exterior of the building owned by online shopping website Etsy, directly next to Panti Bar on Capel Street. Along with the words, an arrow was painted pointing towards the famous LGBT venue.
A team organised by the Dublin Town business group quickly erased the offending graffiti by painting over it. A pair of pride flags can now be seen hanging from two windows of the Etsy building. Dublin City Council have said they will repaint the exterior of the building, having received complaints on Monday.
Panti Bliss, aka Rory O'Neill, took to twitter, saying "Ironically, I'm sitting here now about to do an online Pride event."
According to O'Neill, the incident was captured clearly on CCTV and appears to have been planned rather than spontaneous. Video footage was handed over to investigating Gardaí.
A spokesperson for the Gardaí said "Investigations are ongoing." No arrests have been made as of yet.