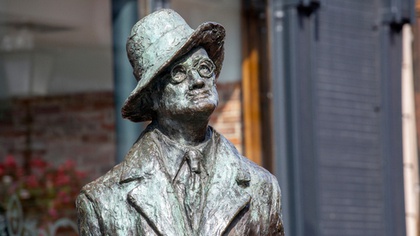 A protest has been held in opposition to proposals to turn a property made famous by author James Joyce into a hostel.
The building at 15 Usher's Island provided the setting for Joyce's acclaimed short story 'The Dead', which was adapted into a film by director John Huston in 1987.
Fans of the writer had hoped the property would become a shared cultural space but An Bord Pleanala has now granted permission for it to be turned into a hostel with bed space for 54 tourists.
On Tuesday, June 15th, a protest was held at the address, with Oscar-nominated actor Stephen Rea among those in attendance. Among the other actors taking part were Rachael Dowling, Maria Hayden and Katie O'Kelly.
A letter penned by actress Anjelica Huston, who starred in her father's film, was read aloud on the steps of the building.
While the film didn't shoot in the actual property, its interiors were meticulously recreated on a soundstage in California.
Dowling, who made her screen debut in the film, said "This site here is still with us, it's not deconstructed. What we have is a glorious icon. For anyone to come here, to the site of perhaps the greatest ever written story, it feels like a no-brainer to preserve it."
Written in 1914, The Dead takes place during a Christmas party thrown at a house inspired by 15 Usher's Island, which was rented by Joyce's great aunts at the time.